Greetings Kings & Queens!
It's finally here: Royal Revolt 2 Version 6.0 is now available for download!
One month ago, we already announced what RR2's next big chapter has in store for you: Seasons!
Many would already be familiar with the concept of Seasons, but for those of you who aren't, here's what awaits you:
The Circus is in Town! New attractions every month! Shower in glorious Rewards!
Led by our latest addition to the RR2 roster of characters – introducing
"The Ringmaster and his Travelling Circus of Wonders"

Every first Thursday of a month an all-new Circus Season visits the Kingdom, each with its very own, distinct theme and set of rewards to offer.
Let's have a closer look at our first ever Season "Epic Easter Eggstravaganza", starting on the 2nd of April, to showcase how it will affect the game and what it has to offer.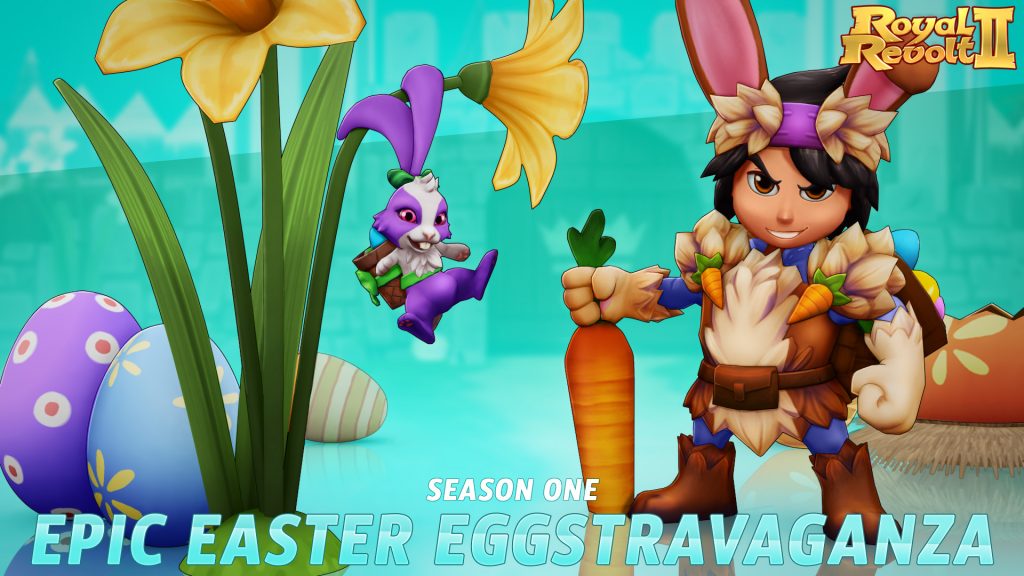 The following effects are active for the entire duration of this Season:
Knights automatically gain extra Levels. Your Knight's level is increased up to the maximum your current Troop Academy Level allows. If your Knight is already at the maximum, it gets +1 level on top. This even works if your Knights are already on level 16 – they will gain the otherwise unattainable level 17!
Bomb Towers will be given +2 Levels. Just like Knights, the +2 Levels are also added if your Bomb Tower is at your current possible maximum Level.
Select Units and Obstacles gain special skins that fit the seasonal theme. The skins are active for everyone for as long as the season runs.
In order to make progress in a Season, you have to earn Season XP by fulfilling Season Quests and Season Achievements. Quests include simple daily tasks and others that only become available once specific Events are running. Season Achievements are Quests that take more effort and give larger amounts of XP. More Achievements unlock over time as the Season progresses.
Whenever you've gained enough XP, your Hero will advance on the new Season Map, earning attractive Rewards in the process. Among the regular Rewards available for everyone, there are also exclusive Rewards only obtainable by owning a Season Pass.
The Easter Season Rewards will include, among other things:
A brand-new Bomb Tower Rune
All-new Player Profile Customizations
A New Environment for your Castle and, for the first time ever, your Stronghold!
Pro-Items and a Pro-Pal
All kinds of chests and various other Rewards
Each Season will feel different, as it shifts the overall meta game with balance changes, providing a refreshing variety on a new level.
Version 6.0 marks only the first step of what RR2 has up its sleeve for you in 2020, so stay tuned and enjoy your first Season!
Your Royal Revolt 2 Team
Note: Depending on your platform, it can take some time before the new version arrives in your app store. Don't worry it will become available eventually and till then you can play uninterruptedly on your current version