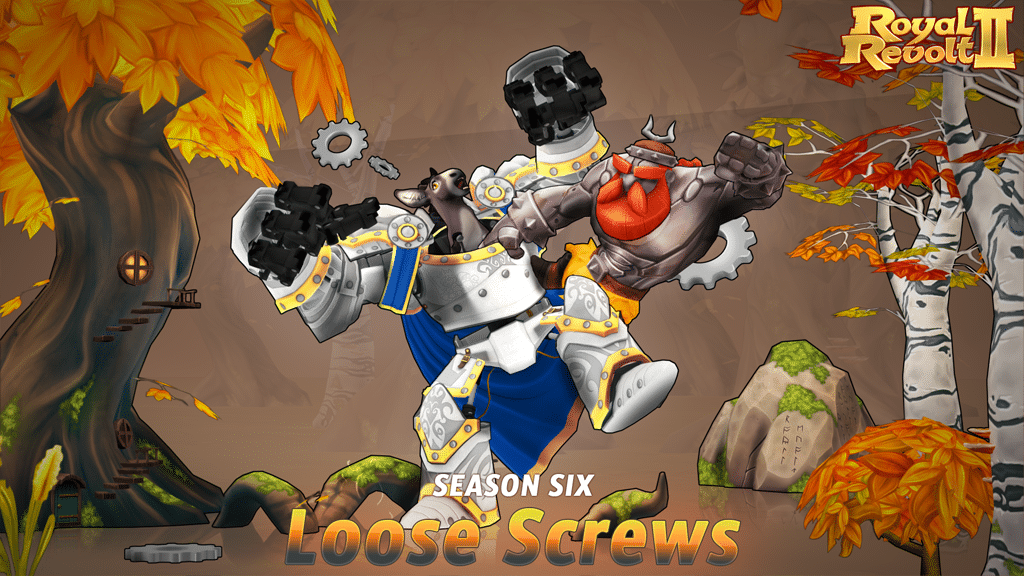 Dear Kings and Queens,
ready up your screwdrivers and wrenches,
" Season Six: Loose Screws" is starting today at 13.00 UTC, with 40 levels and 9 achievements!

Conditions:
Cannon: +1 Level
Viking: +1 Level
Spikes: +2 Level
Lightning Tower: +1 Level
Exclusive Skin for the Cannon, Spikes & Viking
Fall environment active for all battles on the default environment
Rewards include:
G-5000
3x Phoebe + 3x Eris
New Viking Rune: Warlord
Runes for Blockade, Unit Damage, Unit Speed & Spell Cooldown Reduction
Items: Complete Viking Item Set (Pro), Cultist Thorns (new), Cultist's Habit (new), Devastationary(Pro, new), Artisan's Cape (Pro, new), Pro Item Chests (ranging from 1x to 3x items)
Colors & Patterns: Cogwheel pattern (Level 20), Mechanical color (Level 20), Key pattern (Level 150), alternate mechanical Color (Level 200), Gray Color (Level ????)
Infinite Rewards: added chance to find pals & pro chests; removed items from Epic Magic Chests.
Get your Season Pass today to snatch all of them!