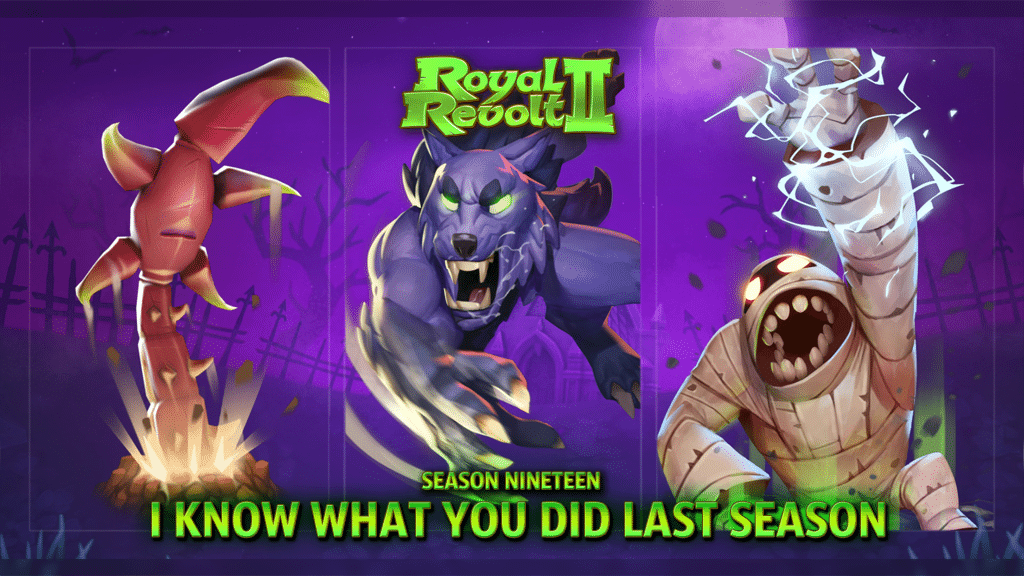 🧹Wicked Warlocks and vicious VVitches🧹

1, 2, Froggy's coming for you!
Halloween Season is finally here and we're beyond excited for our annual rave to the grave!
So bring an extra pair of pants and get ready for A Nightmare on Frog Street, cuz:
"Season Nineteen: I Know What You Did Last Season" is starting tomorrow at 13:00 UTC, with 40 levels and 9 achievements!

Conditions:
Toxic Cloud: +1 Level
Werewolf: +1 Level
Mummy: +1 Level
Basilisk Tower: +1 Level
Exclusive Skin for the Werewolf & Mummy active for all players
Graveyard environment active for all battles on the default environment
New & Changed Collections:
Two New "Oddball" Set Collections (Uber)
New Vampire Set Collections (Uber & Pro)
New Werewolf & Mummy Instatroop-Token Collections
Inuit set: increased the HP bonus of the first Collection step (100->250)
Viking & Mortar Instatroop-Token Collections: increased HP bonus of step 3 (250->500)
Magical Market:
A big batch of new Seasonal offers for the upcoming Season, including a new Dual Profile Color
Rewards include:
Brand-new Contest Winner Cultist Skin
Several Magic Potion Chests
Pals: 1x Bela, 3x Ceres, 3x Eris & more
Guardians: 2x Yig,Yog,Yug & 6x Advisor
Runes: entirely new Toxic Cloud Runes & Basilisk Tower Runes (more Info here) & Runes for Werewolf, Ogre, Mummy & more
Instatroop-Tokens for Werewolf & Mummy
Items: entire Vampire Set (Pro), parts of the Headless Horseman Set (Uber), Pro Item Chests (ranging from 1x to 3x Items), chance to find rare horror-themed Pro Items + another very special secret hidden in the Endless Reward Area 👀
Colors & Patterns: Zombie Hand Pattern (Level 20), new Purple/Orange Dual Halloween Color (Level 20), Bat Pattern (Level 150), entirely new Purple/Black Dual Halloween Color (Level 200), bonus Dual Halloween Color (Level ????)
Get your Season Pass today to body-snatch all of them! 🎟️