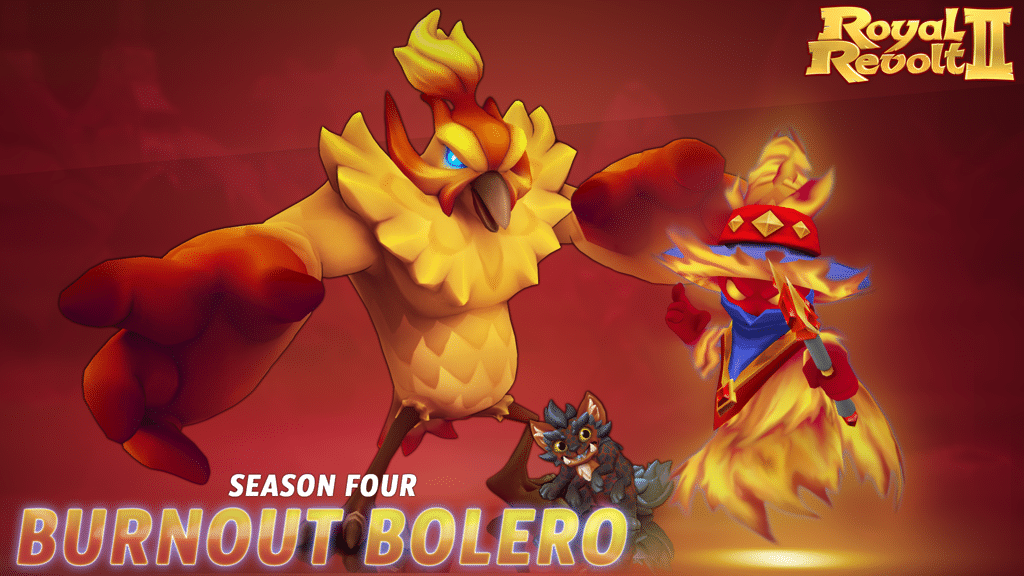 Dear Kings and Queens,

" Season Four: Burnout Bolero " is starting today at 13.00 UTC, with 40 levels and 10 achievements!

Conditions:
Firestorm Spell: +1 Level
Pyromancer: +1 Level
Gargoyle Tower: +1 Level
Exclusive Obstacle Skin for the Gargoyle Tower
Volcano environment active for all battles on the default environment
Rewards include:
Hans
Eldrak (x3)
Goruc (3x)
Unique Runes for Pyromancer & Hero Items
Items: Masamune(Pro), Archmage Circlet (Pro), Kiln Carapace, Anvil Kicks (Pro), Shaper of Might, Dragon's Prism (Pro), Purgatory(Pro), Double Speed Sneakers, U???????(Pro), B??????????(Pro), O????????(Pro), T????????????(Pro)
Colors & Patterns: Fire pattern, Fire color, ??? pattern, ??? Color, ??? Color, ??? Color
Get your Season Pass today to snatch all of them!