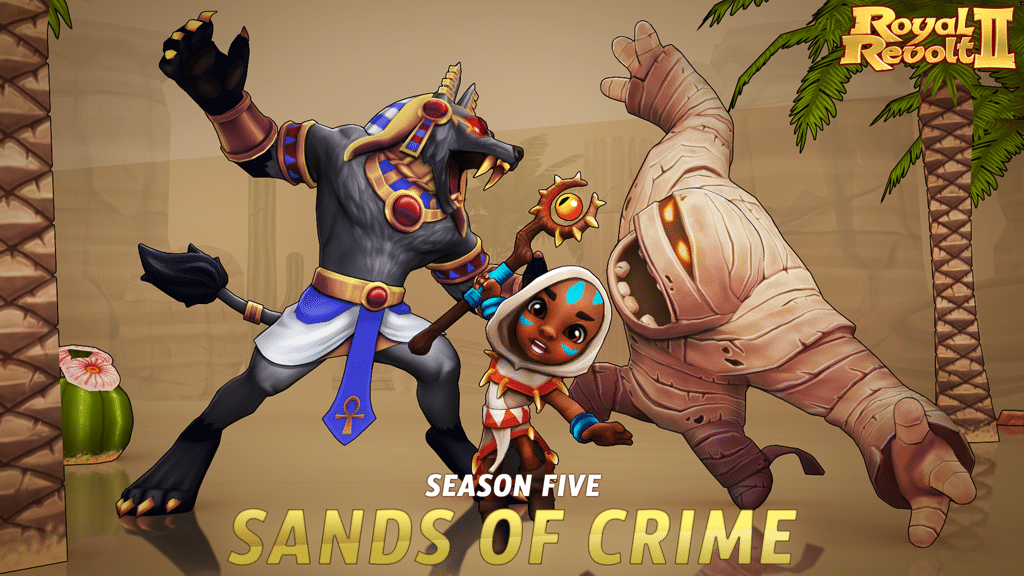 Dear Kings and Queens,
what has been lying forgotten in the desert shall now rise again…
" Season Five: Sands of Crime" is starting today at 13.00 UTC, with 40 levels and 9 achievements!

Conditions:
Earthquake Spell: +1 Level
Werewolf: +1 Level
Mummy: +1 Level
Barricade: +2 Levels
Exclusive Skin for the Werewolf & Mummy
Desert environment active for all battles on the default environment
Rewards include:
Cultist Instatroop-Tokens
Goruc (3x)
3x Phoebe
Unique Runes for Cultist, Werewolf, Barricade, Earthquake & Hero Items
Items: Cursed Deathmask(Pro, new), Lunacy(Pro, new), Bloodmoon(Pro, new), Craftman's Crest(Pro, new), Horko's Dominance (Pro), Prospector's Gear (Pro, new), Baltus' Belt (Pro, new), Sack Head (Pro), Golf Club (Pro, new), Diamond Ring, N?????????????(Pro, new)
Colors & Patterns: Ankh pattern (Level 20), Desert color (Level 20), Eye pattern (Level 150), alternate Desert Color (Level 200), Sand Color (Level ????)
Get your Season Pass today to snatch all of them!