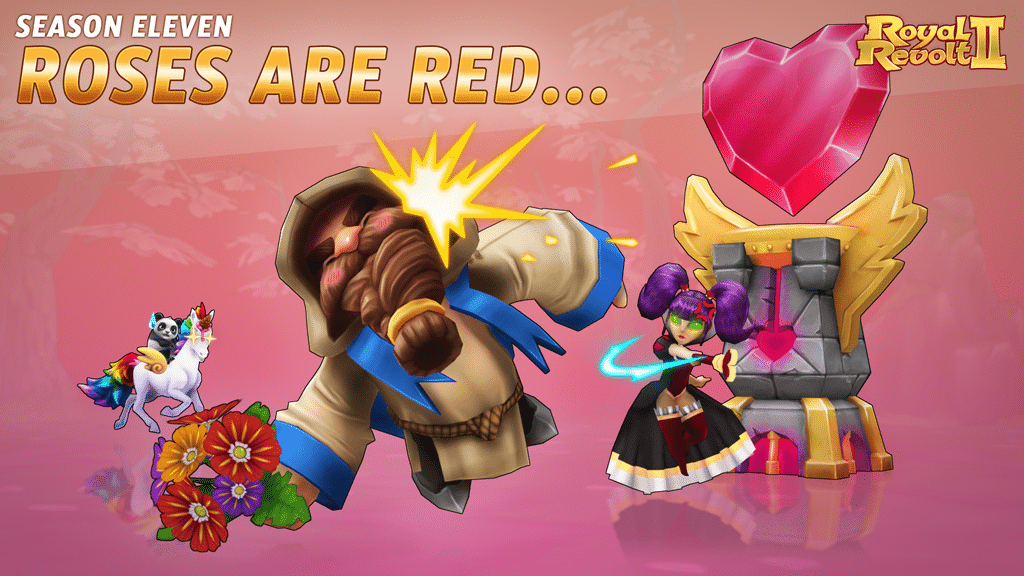 Dear Kings and Queens,
Love is in the air, and while February 14th is the day for lovers, we'd like to extend its meaning not only over the duration of a month, but also to include all of your friends, family, and loved ones. Everybody loves chocolate after all. 🍫
"Season Eleven: Roses are red…" is starting tomorrow at 13.00 UTC, with 40 levels and 9 achievements!

💖 Conditions:
Monk: +1 Level
Heal Spell: +1 Level
Heal Tower: +1 Level
Exclusive Skin for the Heal Tower & Necromancer
Sakura environment active for all battles on the default environment
👜 New Collections:
Sprinkle Collection
Apollon Set Collection
Monk Instatroop-Token Collection
Uber Blacksmith Set Collection (new level)
Pro Blacksmith Set Collection (new level)
🥇 Rewards include:
    Pals: 5x Tammy, 3x Phoebe, 3x Eris, 3x Ceres
    Guardians: 2x Sprinkle
    Runes: Blockade, Arrow Tower, Werewolf, Sonic Blast, Frost Tower, Bomb Tower & various item runes
    Instatroop-Tokens for Monk, Knight, Archer + chance to find Instatroop-Tokens for Knight, Archer, Paladin, Froster, Pyromancer, Cultist & Monk in the Endless Reward area
    Items: Complete Blacksmith Set (Pro), complete Apollon Set (Pro), Frenzy Claws (Pro), Tammy's Comfort (Uber), several Uber- & Pro Item Chests (ranging from 1x to 3x items), chance to find Parts of the Dungeon Set (Uber) in the Endless   Reward area
    Colors & Patterns: Hearts pattern (Level 20), bright pink Color (Level 20), Unicorn pattern (Level 150), alternate Pink Color (Level 200), bonus alternate dark gray Color (Level ????)
Get your Season Pass today to snatch all of them!
☮️ Stay safe,
Your Royal Revolt 2 – Team