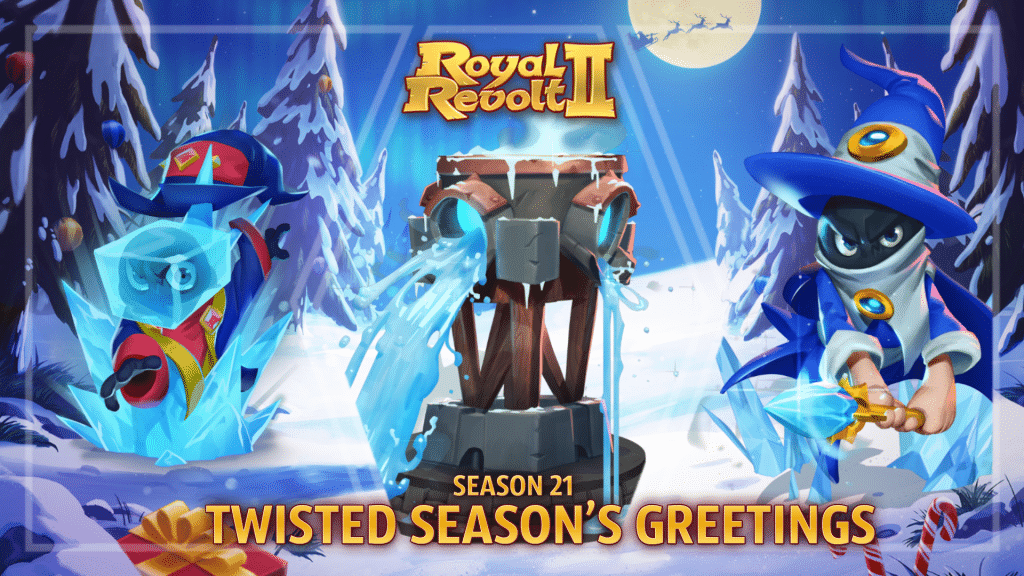 Dear Kings and Queens,

Almost there! We're approaching the 2021 finishing line with high speed and you already know our obligatory December drill: Presents, Elves and Candy Cane.
Kicking things off is this year's Christmas Season:
🎄 "Season 21: Twisted Season's Greetings" is starting tomorrow at 13.00 UTC, with 40 levels and 10 achievements! 🎄

Conditions:
Blizzard: +1 Level
Froster: +1 Level
Frost Tower: +1 Level
Xmas environment active for all battles on the default environment
Exclusive Ogre & Froster skins active for all players
New Blizzard Rune: Hypothermia
On Tiers 1 – 6, every Unit and Obstacle killed by the Blizzard Spell reduces its Cooldown.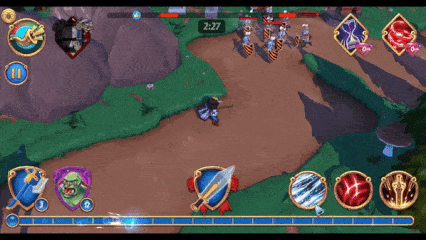 On its unique Tier 6, Blizzard has a chance to freeze units on hit.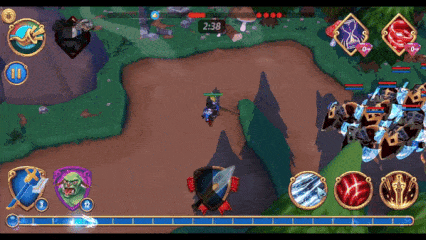 New Froster Rune: Hailstorm
On Tiers 1 – 6, Projectiles of Frosters fly faster.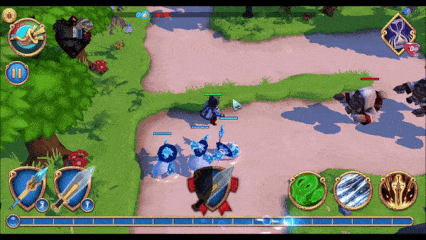 On its unique Tier 6, Frosters have a chance on hit to freeze units.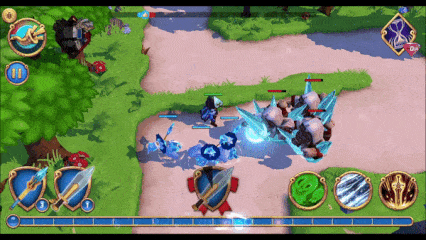 New Collections:
New Spellpower Set IX Collection (Blizzard) awarding 2 Pro-Items & a Blizzard Spellpower Perk
New Yeti Set Collection (Uber)
Magical Market:
A big batch of new Seasonal offers for the upcoming season, including a new Dual Profile Color (Xmas Red/Black), many Xmas Pal skins, the full Bad Santa Set (Uber), Tier 4 & 5 Runes & more
Rewards include:
Several Magic Potion Chests
Pals: 1x Fritz, 3x Ceres, 3x Eris & more
Guardians: 6x Trusty
Runes: entirely new Blizzard & Froster Runes
Instatroop-Tokens for Froster & Pyromancer
Items: entire Xmas-Elf Set (Pro), entire Yeti Set (uber), entire Bad Santa Set (Pro), Pro Item Chests (ranging from 1x to 3x Items), chance to find the Blizzard Spellpower Items in the Endless Reward Area
Colors & Patterns: new Xmas Pattern (Level 20), new blue/ice Dual Color (Level 20), Star Pattern (Level 150), new inverted blue/ice Dual Color (Level 200), bonus Golden Dual Color (Level ????)
Make sure to get your Season Pass to snatch all of them! 🎟️