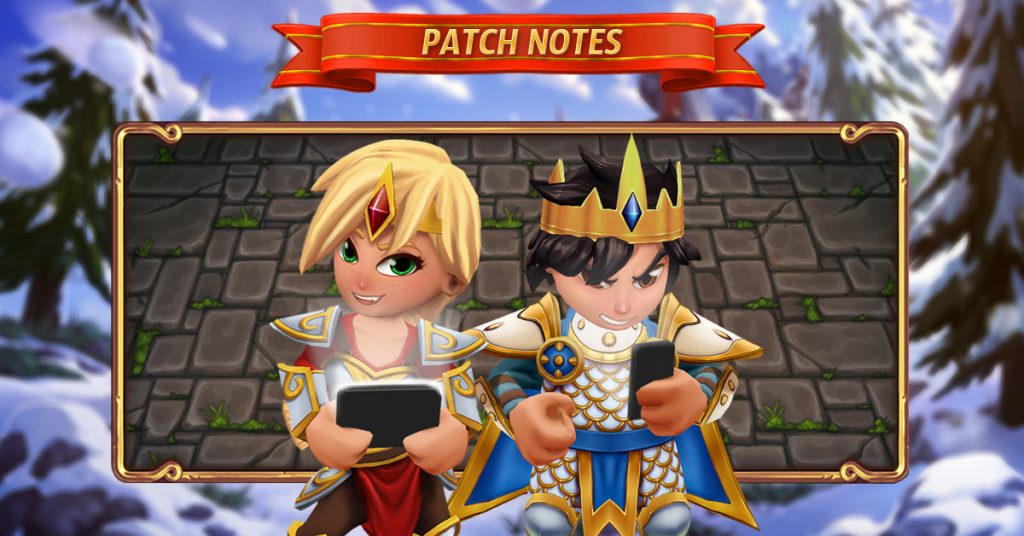 Dear Kings and Queens!
we're approaching the end of the year. But before we all dive headfirst into the Holiday Season, there's one more Version RR2 has in store in 2021. 
So grab some hot cocoa, get comfy under your favorite blanket and let's have a look at what to expect from Version 7.4.0! 

⚔️ Improved Attack History

The Attack History has finally been treated to some neat Improvements to give more insights and clarity:
The amount of overall entries has been increased from 20 to 50
The "Used Pal" is now shown for individual Attack entries
The "Used Guardian" is now shown for individual Attack entries
The "Used Insta-Troops" are now shown for individual Attack entries
⛏️ Improved Dungeon UI
We have added some additional information to the Dungeon UI for convenience reasons:
The unlocking time for a new Dungeon Mission is now indicated, before the digging task is started
The amount of available Workers is now shown in the Dungeon UI as well
📦 "Store All" Button for Defense Layouts
It has been requested for years and it's finally here: A way to move all your Obstacles and Towers into the Inventory with a single tap of a Button! Emptying your entire Defense has never been so easy.
🥇 New Badge Collection Sorting
A neat and complete Season Badge Collection requires commitment and devotion! For more convenient navigation and to make for quicker access to your latest achievements, we have changed the Badge Collection sorting from newest to oldest, showing your most recent badges first.
🛡️ War Boost Activation Confirmation

Have you ever accidentally activated a War Boost and wasted precious Royal Brew? Yea, we too. A new Confirmation Pop Up will make sure that this pesky problem is a thing of the past.
👜 New "Item Equipped" Indicator
Since it has been a matter of confusion when trying to sell Hero Items for a long time already, we have included a new indication message in an Item's Detail View, telling players whether it is currently equipped in one of their Hero's Wardrobe Slots.
🐞 Additional Bugfixes
Fixed an issue with the Production Boost Tiles in Conquest Events
Fixed disconnection issues when giving Orders in Conquest Events on Windows Platforms
Fixed an issue that prevented 2 of the new Facepaints (Robot/Split-Face) to properly adapt the selected Skin Color
Fixed an issue that prevented the Cultist's Evil Eye VFX to be properly displayed above Werewolves
Fixed an issue that caused the Castbar above the Marty Pal to be misplaced
And that about wraps it up! Or does it?
Rumor has it, there are some more Seasonal Secrets hidden in this Version, so you better watch out! 👀
Enjoy and stay safe!
Your Royal Revolt 2 – Team