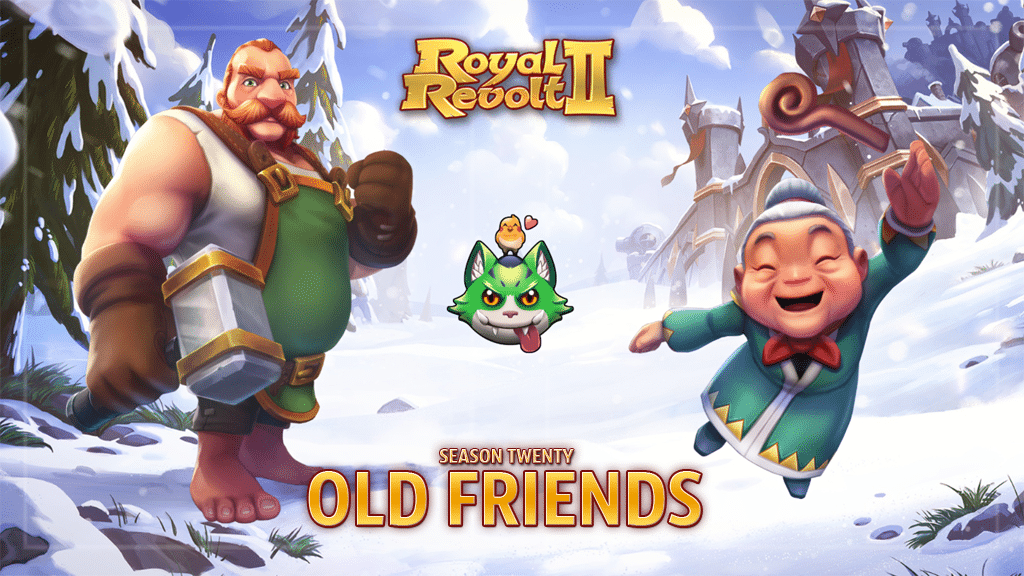 Congratulations Kings and Queens,
you successfully survived Halloween! Now join us this month, as we dial it down a notch and celebrate a very special bond.
You've known them for years, they've known each other even longer: Two kindred spirits, both masterful at their craft and both in company of their adorable and supportive sidekicks.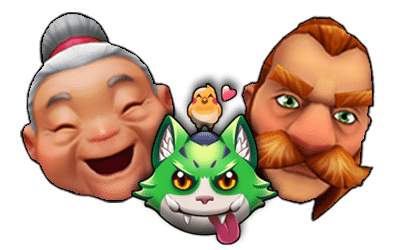 🤝 "Season Twenty: Old Friends" is starting tomorrow at 13.00 UTC, with 40 levels and 9 achievements! 🤝

Conditions:
Sonic Blast: +1 Level
Paladin: +1 Level
Bomb Tower: +1 Level
Northland environment active for all battles on the default environment
New Paladin Rune: Bulwark
On Tiers 1 – 6, Paladins spawn with a Shield based on their maximum HP.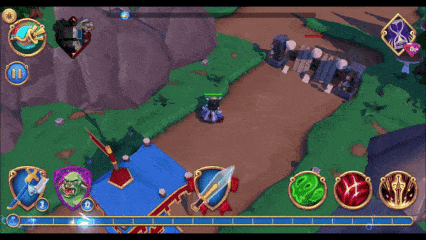 On its unique Tier 6, Paladins have a chance on hit to cast a Battlecry on themselves.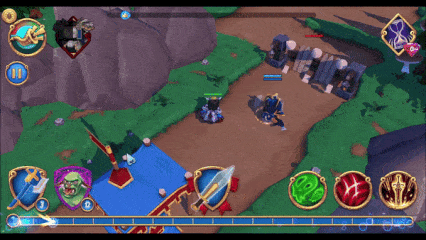 New & Changed Collections:
New Spellpower Set VIII Collection (Sonic Blast) awarding 2 new Pro-Versions of Eternal Wave & Seven-League Boots
New Granny Set Collections (Uber & Pro)
New Kaiser Collection
Dragon Set Collection: New Step awarding Fire Spellpower Perk (1000)
Spellpower Set I Collection: New Step awarding Hammerstrike Spellpower Perk (1500)
Oddbal Set I Collection: New Step awarding 1000 Gems
Magical Market:
A big batch of new Seasonal offers for the upcoming Season, including a new Dual Profile Color (Green/Black)
Added the full Zelos Set (Pro)
Added additional Pals
Added Instatroop-Tokens
Added miscellaneous Tokens, Patterns & Colors
Rewards include:
Several Magic Potion Chests
Pals: 1x Kaiser, 3x Phoebe, 3x Janus & more
Guardians: 6x Sultan & 3x Advisor
Runes: entirely new Paladin Rune Bomb Tower, Arrow Tower, Sonic Blast & more
Instatroop-Tokens for Paladin, Knight & Archer
Items: entire Blacksmith Set (Pro), entire Granny Set (Pro), parts of the Apollon Set (Pro), Eternal Wave (Uber), Seven-League Boots (Pro), Pro Item Chests (ranging from 1x to 3x Items), chance to find items from the Reaper Set (Pro) + Devastationary (Uber) in the Endless Reward Area
Colors & Patterns: Friendship Pattern (Level 20), new Granny/Blacksmith Dual Color (Level 20), Keys Pattern (Level 150), new inverted Blacksmith/Granny Dual Color(Level 200), bonus Blacksmith/Black Color (Level ????)
Get your Season Pass today to snatch all of them! 🎟️