Hello Kings and Queens,
our Girlpower Season is still in full swing! Last week we closed our big Cultist Skin Contest and we've received some truly amazing submissions, to say the least! Thanks to everybody who participated! 🎨
This week another queen-sized surprise is waiting to be unveiled as part of our latest Version 7.2.0!
The Advisor's finest hour 👑
Yep, there was another reason for the Advisor to be prominently featured on this month's Loading Screen:
Everyone's favorite know-it-all is about to experience her very own adventure, as she explores the depths of the Dungeon all by herself. This means:
100 new Dungeon Missions are waiting to be played as the Advisor!
Unlock new Levels for the Ogre, Gargoyle, Mummy and Werewolf!
Earn all types of Rewards on your underground journey!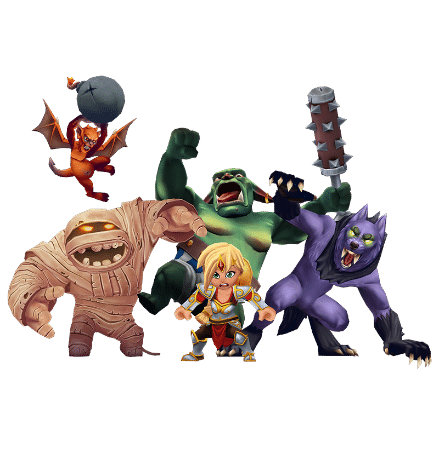 Pearl Upgrade Convenience 🔨
Tired of tediously forging all your precious gear and belongings one by one? Here's the ultimate remedy:
With the tap of a button, you can now comfortably multi-forge all your stuff at once.
(NOTE: This feature is unlocked after 10 Pearl Upgrades on an object.)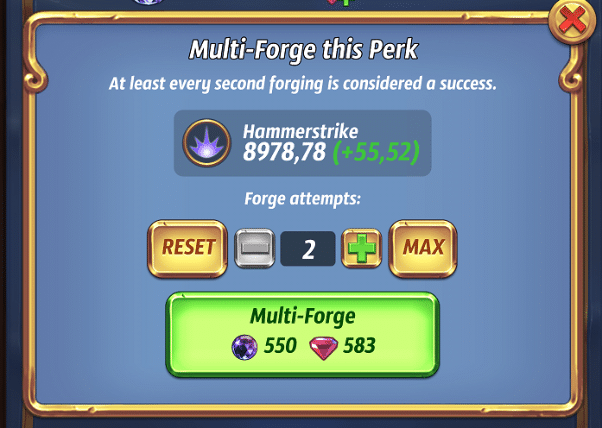 Boost Prolonging to the MAX! 🆙
And it doesn't stop there!
Also highly requested and possible at last: Boosts can now be prolonged to the max with a single button tap. A true time-saver!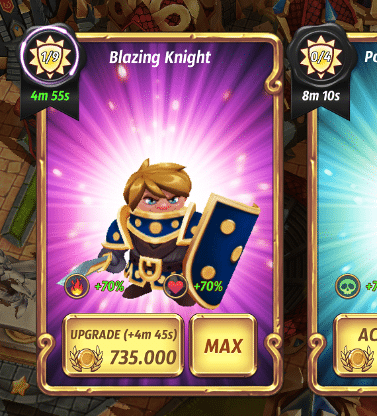 Let's hear it for Friendship! 🎁
Some of a Season's greatest treasures are reserved for owners of the popular Season Pass. So what better way to express your affection than to gift a loved one the highly coveted golden ticket?
Simply head over to your Alliance's Member List or Friendslist and pick the lucky presentee!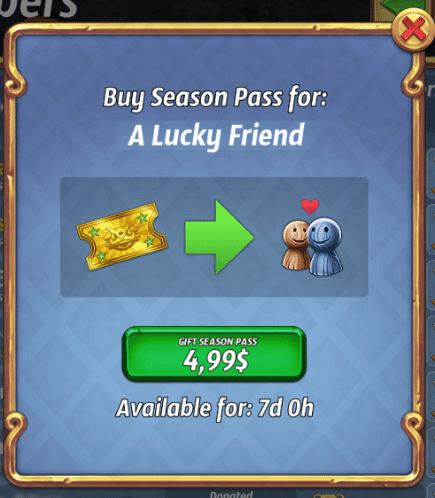 More Improvements and Bugfixes ✨
A new Mailbox Message now notifies Alliances Members about a Beast Boost Level Up.
The Mailbox Message about an Alliance Level Up now also features the name of the Member who performed the Level Up.
Cultist Buff (offense and defense):

increased HP by +20% on all levels
increased Movement Speed from 1.2 to 2.0 on all levels
increased Attack Rate from 0.25 to 0.5 on all levels
increased instant damage by +10% on all levels
increased chance to apply Evil Eye by +6% on all levels
increased Evil Eye damage over time by +20% on all levels

More Hero Item Perks are now capped at specific values:

The Hero Scream Attack Rate Perk now has a cap at 450% (players should not be able to reach this cap yet)
The Hero Scream Troop Speed Perk now has a cap at 100% (players should not be able to reach this cap yet)

All resistances are capped at 80% (NOTE: this was always the case, but is now reflected by the resistance popup texts in the Stats Overview Screen)
Fixed an issue that caused the "BEAST APPROACHING" and "SIEGE", etc. labels to overlap the Hero HP.
Fixed a visual bug that occasionally showed wrong values for Spells in the Battle Loadout Spell selection menu.
Reduced the initial volume on WinPC and Steam by 50%.
Skeletons do not receive the "Shielded" VFX anymore when a Shield spell is used. Note that Skeletons were never able to be shielded in the first place, this was a visual bug only.
Players leaving the Stronghold without Troops are now warned even if no Troops are available.
Note: depending on your platform, the version takes a while to appear in stores. We hope you'll like our latest output and can't wait to share even bigger surprises later this year!
Have fun with our latest version,
Your Royal Revolt 2 – Team