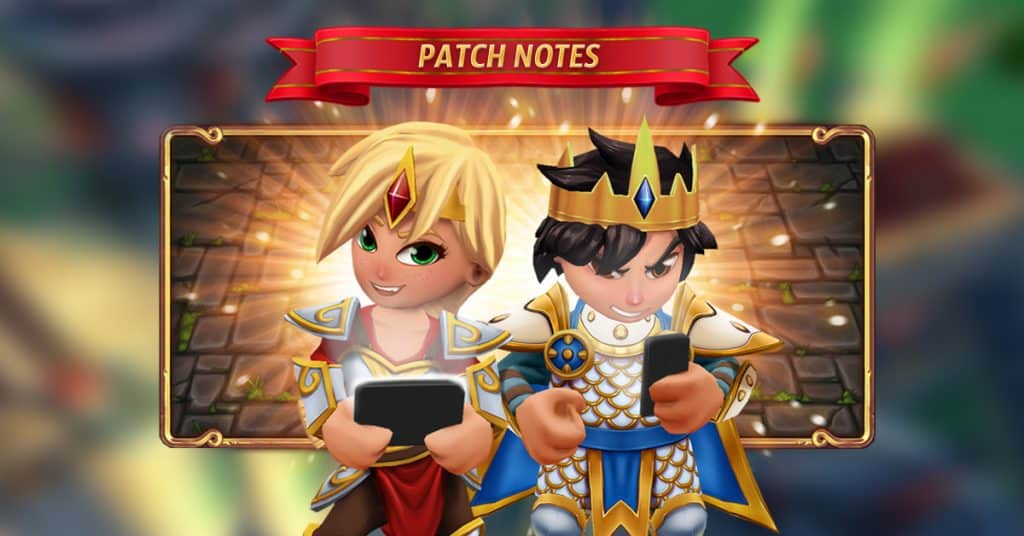 Kings and Queens,
Autumn is drawing closer and with our latest release, we might just have something to hold you over before we enter the spooky time of the year.
Here's what you can expect from Version 6.3.0:
New Video Ads
We have added new ways for you guys to watch Video Ads to save some Gems, retrieve some stolen Gold and more:
Watch a Video to get rid of one Blank in the Chamber of Fortune
Watch a Video to retrieve some Gold that attackers have stolen from you
Watch a Video to get the first Rune Chest in the Blacksmith's Rune Production
Watch a Video to unlock cool Bundles in the game's Shop
New Rune Extraction Token
A new Token has been added to the game that allows you to extract an already applied Rune from any object and safely return it to you Rune Inventory.
Collect entire stacks of Chests
We have added a new button to the Chest Inventory that lets players collect an entire stack of Chests at once. All currencies (including Pals and Guardians) are immediately collected, while Hero Items will automatically be sold for Gold.
More Wardrobe Slots for Season Pass owners
Owners of the monthly Season Pass will now get access to 4 more Wardrobe Slots in the Throne Room.
Bugfixes & Polishing:
Fixed a bug that caused Wisdom to be deducted twice when a Tech was started by two players at the same time
Fixed a bug that caused the Cultist's Evil Eye stat to be displayed with one decimal place only
Fixed a bug that caused the Howl's "Howl" and Growl's "Intimidate" stat to be displayed with one decimal place only
Fixed a bug that caused incorrect stat values to be displayed in the Battle Loadout when wearing Hero Items that boost the Cultist's stats ("Cultist Thorns" or "Cultist's Habit")
Fixed a bug that made it impossible to attack a Tower Guard after the player went inactive
Fixed a bug that caused the War Rank display to sometimes show a wrong value in the Alliance Menu