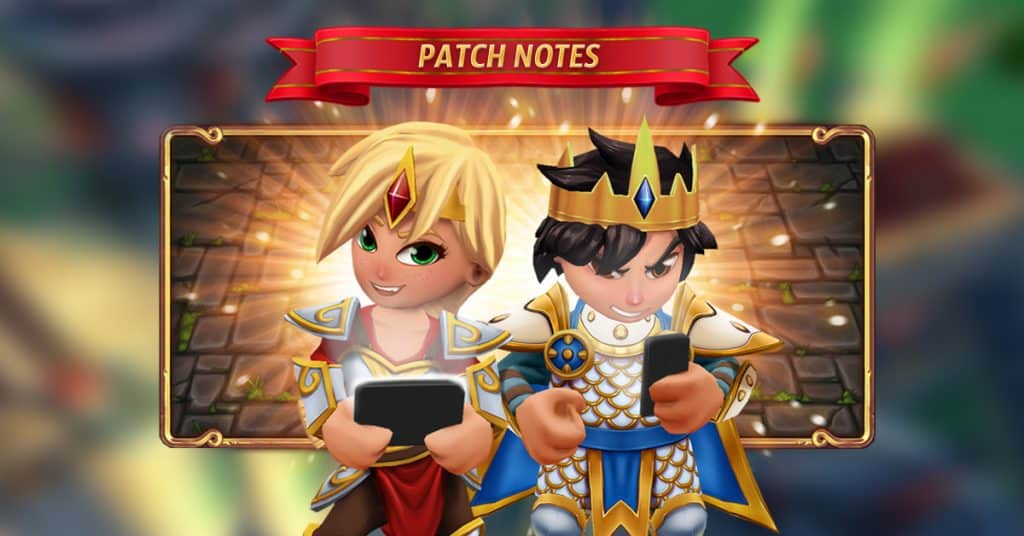 Greetings Kings and Queens,

the brand new Version 8.1 is out, bringing you a few smaller improvements while we prepare for bigger things down the road!

Here's what's new:

📛 Additional Name Change 📛
It is now finally possible to purchase additional name changes if you have used up your one free name change already. This can be done once a month.
💎 Custom "Gem Spend" Warning 💎
It is now possible to set the gem threshold that triggers a "Do you really want to spend Gems?" warning manually. Head to the options menu to find it.
🪞 Mirror World Battle Limit 🪞
To spice up the Mirror World a bit, we are introducing a battle limit for each Mirror World stage. Make it count!
🪞 Expanded Collections 🪞
A massive update to Collections, with many new levels added to existing ones and a few entirely new Collections as well!
The new expanded collections will only be available after the force update next week. Keep an eye on our official communication.
Item Collections: new Levels
Tourney Set
Reaper Set
Golden Set
Dominion Set
Dungeon Set (2 steps)
Pal Power Set
Headless Horseman Set (Uber & Pro)
Hammerstrike Set
Firestorm Set
Sonic Blast Set
Heal Set
Necromancer Set (Uber & Pro)
Baseball Set (Uber)
Odball Set II
Vampire Set (Uber & Pro)
Yeti Set (Uber)
Omega Set
Ares Set
Chloris Set
Zelos Set
Horko Set

New Spellpower Collections:

Unit Rune Collections:
buff: added +2000 power to all last steps

Spell Rune Collections:
buff: added +2000 power to all last steps

New Pal Collections:

Pal Collections: new Levels

New Misc Collections:
Gargoyle instatroop token
🪨 New Runes 🪨
Version 8.1 contains several brand-new Runes, to be released over the upcoming seasons.
🐞 Bugfixes
Fixed an issue that caused disconnects during Conquests when donating resources with Gems
Fixed a crash related to Stronghold Building upgrades
Fixed a scrolling issue when combining Runes
Fixed several broken shortcuts for Quests
Fixed an issue on Android where storing Obstacles triggered a share image to appear
Other minor bugfixes
Version 8.1.0 is now available for download. Keep in mind that depending on your platform it can take some time for the Update to appear.
Thank you for your support, see you in the next Mirror World!
Your Royal Revolt 2 – Team