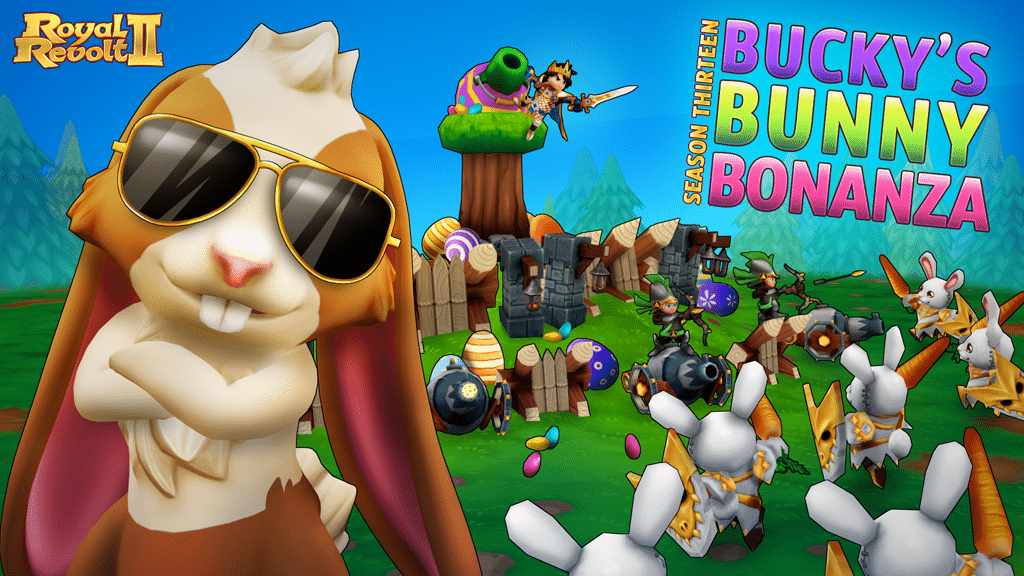 Dear Kings and Queens,
not only is another bomb Easter Season is on its way, it also marks the 1st Anniversary of RR2 Seasons as a feature. And what better fit to host such an event than our favorite hare Bucky?
"Season Thirteen: Bucky's Bunny Bonanza" is starting tomorrow at 13.00 UTC, with 40 levels and 10 achievements!

Conditions:
Pal Flute: +1 Level
Archer: +1 Level
Cannon: +1 Level
Bomb Tower: +1 Level
Exclusive Skin for the Archer, Cannon & Bomb Tower active for all players
Easter environment active for all battles on the default environment
New Collections:
New Easter Set Collection (Uber + Pro)
New Chloris Set Collection (Pro)
Cannon Instatroop-Token Collection
Apollon Collection (Pro): added a new level
Seasonal Offers in the Magical Market:
Note: the Magical Market becomes available after collecting your first Magic Potions in the new game version!
100 Gems
Bucky Pal
Bucky's Surprise
Golden Uber Chests (contain 1 item)
Pro Chests (contain 1 item)
Exclusive Archer skin
Exclusive Cannon skin
Exclusive Bomb Tower skin
Rewards include:
Pals: 5x Bucky, 3x Janus, 3x Eris, 3x Phoebe, 1x Ceres
Guardians: 3 Guardian chests (with 1 Guardian each)
Runes: Archer, Bomb Tower + various obstacle & spell & unit & item runes
Instatroop-Tokens for Canon & Archer + chance to find all previously available Instatroop-Tokens in the Endless Reward area
Other Items: Complete Easter Set (Pro), Apollon Set Helmet, Weapon & Ring (Pro), Chloris Set Shoes, Gloves, Belt, Cape, Shoulders & Armor (Pro), Cricket Bat (Pro), several Uber- & Pro Item Chests (ranging from 1x to 3x items), chance to find parts of the Dungeon Set (Uber) in the Endless Reward area
Colors & Patterns: Bucky pattern (Level 20), Easter Color (Level 20), Carrot pattern (Level 150), alternate Easter Color (Level 200), bonus alternate Easter Color (Level ????)
Get your Season Pass today to snatch all of them!