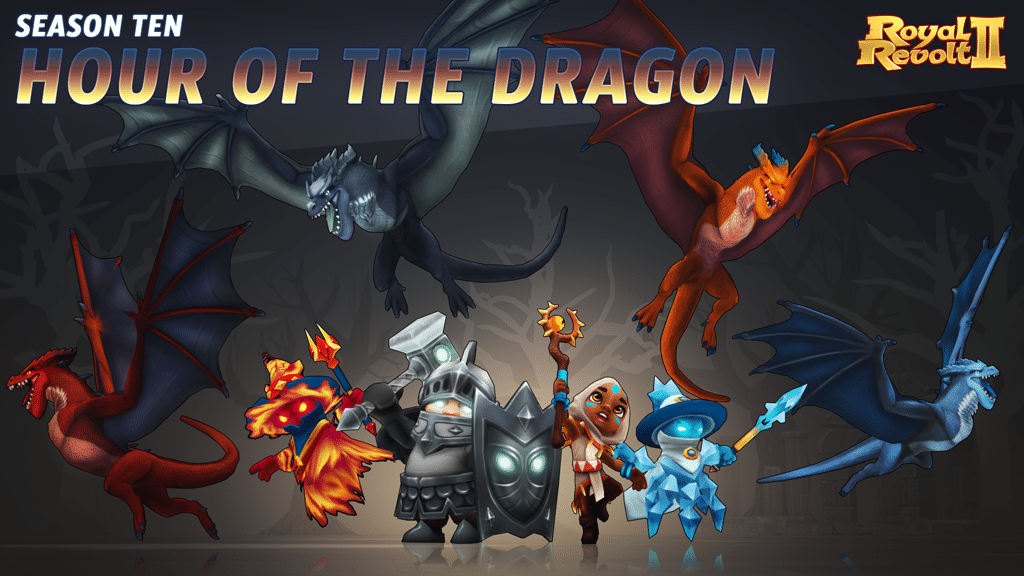 Dear Kings and Queens,
When the powers are aligned, the serpents shall reign from the skies and fiercely kick off 2021 with a bang! So bury your talons in this month's rewards and join the savage fun! 🐉
"Season Ten: Hour of the Dragon" is starting tomorrow at 13.00 UTC, with 40 levels and 9 achievements!

Conditions:
Paladin: +1 Level
Pyromancer: +1 Level
Cultist: +1 Level
Basilisk Tower: +1 Level
Exclusive Skin for the Pyromancermir
Pro environment active for all battles on the default environment
Rewards include:
Pals: 1x Nidhogg, 10x Eldrak, 3x Ceres, 3x Janus, 3x Eris
Guardians: 6x Goruc
Runes: Cultist, Pyromancer & various item, unit & spell runes
Instatroop-Tokens for Cultist & Pyromancer + chance to find Instatroop-Tokens for Knight, Archer, Paladin, Froster, Pyromancer & Cultist in the Endless Reward area
Increased chance in the Endless Reward area to find Eldrak, Nidhogg & Nemesis
Items: Complete Dragon Set (Pro), Wrath (Battleaxe, Pro, new), Prospector's Gear + Prospector's Treads (Pro), Double Speed Shoes (Uber), Buster Sword (pro), several Uber- & Pro Item Chests (ranging from 1x to 3x items) & chance to find Parts of the Dungeon Set (Uber) in the Endless Reward area
Colors & Patterns: Dragon pattern (Level 20), Dragon Color (Level 20), Beastclaw pattern (Level 150), alternate Dragon Color (Level 200), bonus Dragon Color (Level ????)
Get your Season Pass today to snatch all of them!