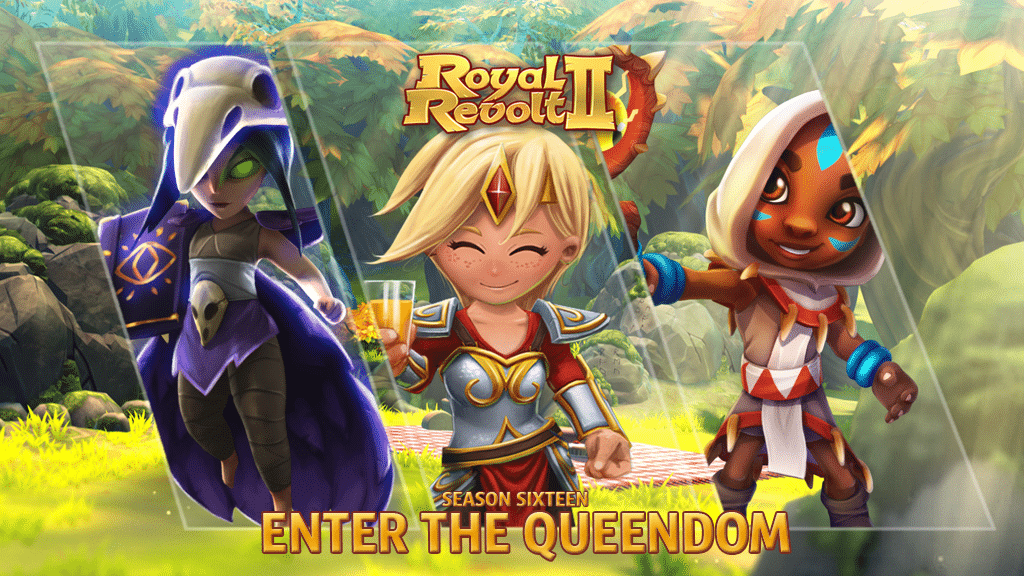 Dear Kings and Queens,
You could be the King, but watch the Queens conquer! Our following month is all about GIRL POWER! ✊ ♀️
So get ready for some fun and surprising celebrations, as we're honoring the Ladies of the Royal Revolt 2 universe and beyond in more than one way.
"Season Sixteen: Enter the Queendom" is starting tomorrow at 13.00 UTC, with 40 levels and 10 achievements!

Conditions:
Swordrain: +1 Level
Stun: +1 Level
Cultist: +1 Level
Spike Trap: +1 Level
Skull Tower: +1 Level
Exclusive Skin for the Necromancer & Spike Trap active for all players
Sakura Valley environment active for all battles on the default environment
New Collections:
New Baseball Set Collection (Uber + Pro)
New Spellpower V Collection (Shield) awarding new Pro-versions of the items
New Cultist Items Collection awarding new Pro-versions of the items
Magical Market:
New Seasonal offers for this Season
Season Rewards include:
Several Magic Potion Chests 
Pals: 5x Irmgard, 3x Bela, 3x Ceres, 3x Phoebe & more
Guardians: 5x Advisor
Runes: Cultist Rune, Skull Tower Rune & various Item, Spell & Obstacle Runes
Instatroop-Tokens for Cultist, Knight & Archer
Items: Entirely new Boots "Shadowdancer" (Uber), Complete Baseball Set (Pro), several items from the Classic Set (Uber), Ruthaven's Robe (Uber), Deus Ex Machina (Uber), Cultist's Habit (Uber), Cultist Thorns (Uber), Rockbreaker (Uber), Tammy's Comfort (Pro), Uber- & Pro Item Chests (ranging from 1x to 3x Items), chance to find Classic Ring (Uber) & Double-Speed-Perk-Shoes (Uber) in the Endless Reward Area
Colors & Patterns: Tiara Pattern (Level 20), Purple Queen Color (Level 20), Diamond Pattern (Level 150), alternate Purple Queen Color (Level 200), bonus alternate Purple Queen Color (Level ????)
Get your Season Pass today to snatch all of them!