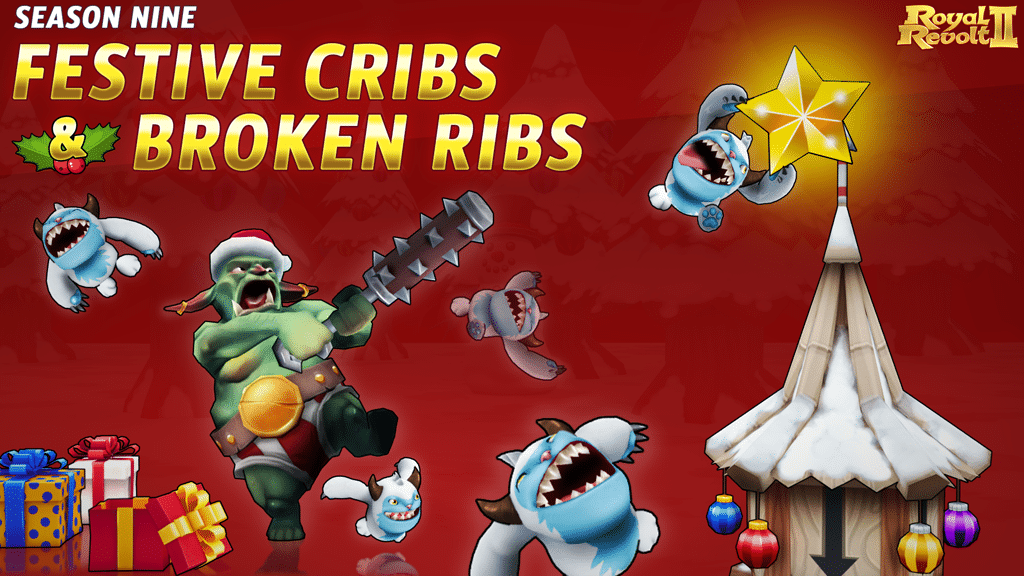 Dear Kings and Queens,
RR2 is decking its halls and we can't wait to celebrate the Holiday Season with you all! That's why we're not scrooging around when it comes to rewards and surprises this month. Yule love it! 🎄
"Season Nine: Festive Cribs and Broken Ribs" is starting today at 13.00 UTC, with 40 levels and 10 achievements!

Conditions:
Knight: +1 Level
Ogre: +1 Level
Arrow Tower: +3 Levels
Barricade: +2 Levels
Exclusive Skin for the Knight & Arrow Tower
Christmas environment active for all battles on the default environment
Rewards include:
Xmas Chests
Higher amount of pearls
Pals: 3x Eris, 3x Phoebe, 3x Ceres & several Xmas skins
Runes: Knight, Ogre, Barricade as well as various item, unit & spell runes
Instatroop-Tokens for Knight, Archer & Paladin and a chance to find more in the Endless Reward Area, to help you in battle and to kick-start your Collection
Items: Complete Xmas-Item Set (both in Uber & Pro), complete Xmas-Elf Set (Pro, entirely new), Aion's Mace (Pro), several Pro Item Chests (ranging from 1x to 3x items) + small chance to find items of the Dungeon Set (Uber) in the Endless Reward Area
Colors & Patterns: Christmas pattern (Level 20), Christmas Color (Level 20), Shooting Star pattern (Level 150), alternate Christmas Color (Level 200), new dark-grey Color (Level ????)
Get your Season Pass today to snatch all of them!