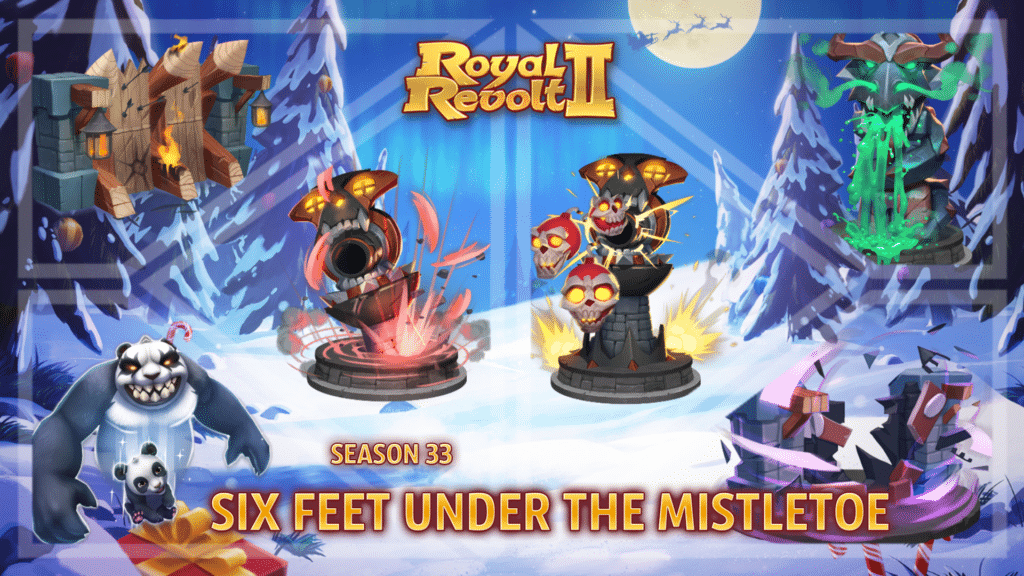 Dear Kings and Queens,
Almost there! We're approaching the 2022 finishing line with high speed and you already know our obligatory December drill: Presents, Elves, and Candy Cane.
Kicking things off is this year's Christmas Season:
"Season 33: Six Feet Under the Mistletoe" is starting tomorrow at 13.00 UTC, with 40 levels and 10 achievements!

New Arblaster Rune: Gunslinger
Arblasters gain additional movement speed.
Unique Tier 6 effect: Arblaster projectiles ricochet to nearby targets.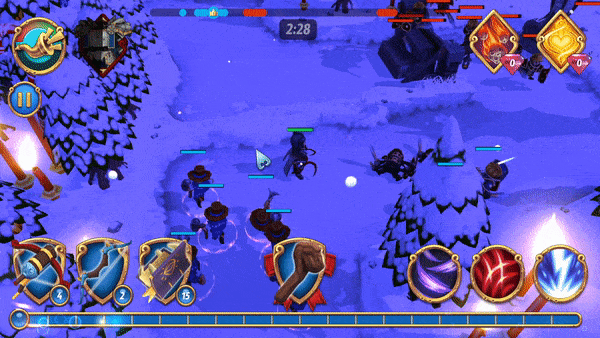 New Bladestorm Rune: Tornado
Bladestorm gains a chance to Intimidate on hit.
Unique Tier 6 effect: When Bladestorm ends, another one is cast for free into the direction the player is facing. Frozen or petrified enemies are shattered while friendly units are freed.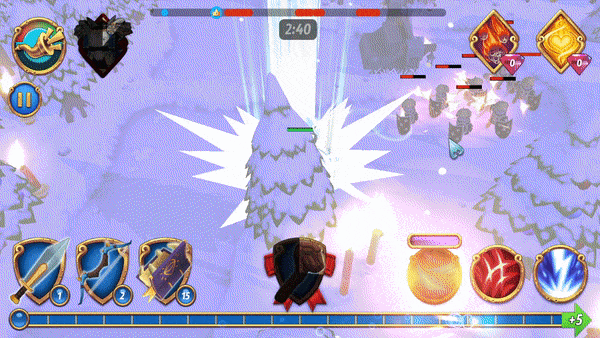 New Snake Tower Rune: Contamination
Snake Towers fire additional long-range Poison Bomb projectiles.
Unique Tier 6 effect: Increases the amount of Poison Bombs fired and also increases their explosion range.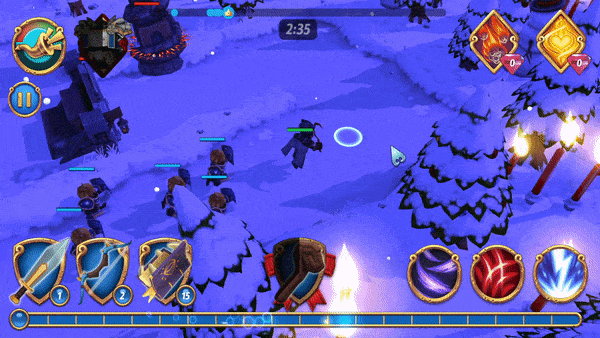 Season Conditions
Pal Flute: +1 Level
Bladestorm: +1 Level
Sonic Blast: +1 Level
Barricade: +1 Level
Snake Tower: +1 Level
Skull Tower: +1 Level
Xmas environment active for all battles on the default environment
Exclusive Ogre skin active for all players
Collections & Magical Market:
Bad Santa Set Collection: New step
Christmas Elf Set Collection: New step
Bladestorm Spellpower Collection: new step
Sonic Blast Spellpower Collection: new step
New Rune Collections for: Cannon, Necromancer, Gargoyle, Stun, Ball Lightning, Firestorm
Plenty of new Seasonal offers for the upcoming Season including the Advisor, Oddball collection items, a new Dual Profile Color (black / Xmas), the Ogre Xmas skin, Xmas skins for all pals, various Runes & more
Rewards include:
Several Magic Potion Chests
Pals & Guardians: Phoebe, Janus, Ceres, and more plus a chance to find various Pals & Guardians in the Endless Reward Area
Runes: the new Arblaster & Snake Tower Runes, & Runes for featured Units, Obstacles, Spells & Items
Various Tokens, including Ruin Removal, reduced Upgrade Time & more
Items: entire Bad Santa & Christmas Elf Sets (both Pro), various items required for the expanded Collections. Pro Item Chests (1x Items) & more
Colors & Patterns: new Xmas-themed Pattern (Level 20), Star Pattern (Level 150), ice / blue Dual Color (Level 20), alternate blue/ ice Dual Color (level 200), special Xmas / dark blue Dual Color (Level ????)
Get your Season Pass today to snatch all of them!