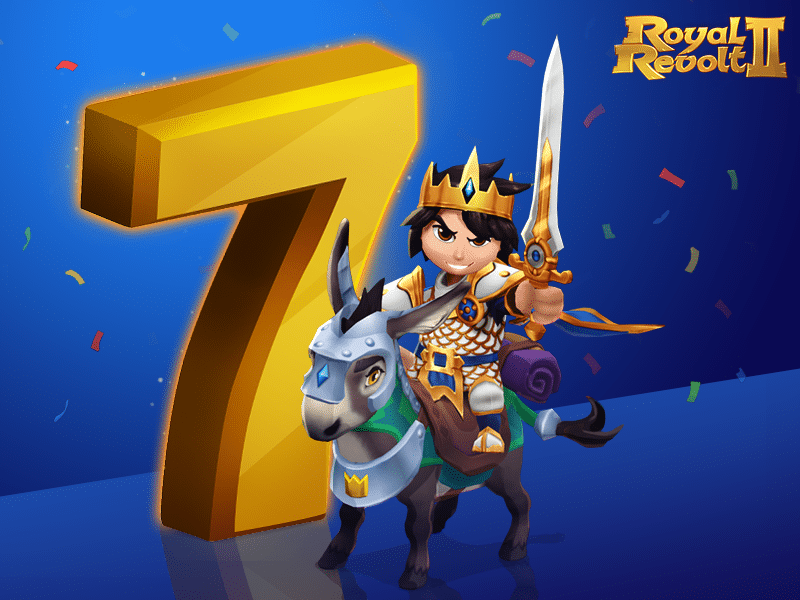 Kings and Queens,
we're turning 7. Yes, you heard right: SEVEN years of Royal Revolt 2! This is insane and we can't thank you guys enough for sticking around. Noone expected the little game we launched in 2014 to make it all the way to 2021 and beyond.
To celebrate the occasion, we have prepared some very special surprises for you all!
Seven Surprises to be precise!
Throughout the month of March, we'll unveil one by one, leading up to the release of our big Anniversary Version 7.0 at the end of the month.🎆
So as we're officially and solemnly ringing in this year's Birthday celebrations, let us kick things off with our big Anniversary Gem Sale starting today:
🍾 Start: 26th of February // 16:00 UTC🍾
🎂 End: 1st of March // 08:00 UTC 🎂
🔓 1. Anniversary Gem Sale
🔒 2. ?????????????
🔒 3. ?????????????
🔒 4. ?????????????
🔒 5. ?????????????
🔒 6. ?????????????
🔒 7. ?????????????
We can't wait to show you everything we have in store for you guys this year!
Once again and from the bottoms of our hearts: Thank you for putting up with us all these years. We've had many great times, we've had many rough times, but we wouldn't want to trade the experience for anything. Seeing people from all over the planet come together and play our game simply means the world to us.
Here's to Royal Revolt 2 and its next 7 years! 🥂
Sincerely,
Your Royal Revolt 2 – Team