🕯️🎃🕯️HAPPY HALLOWEEN EVERYBODY🕯️🎃🕯️

We've reached the Grand Finale of this year's Halloween festivities in RR2!

Just last week we decided to serve you two Halloween Treats at once and this week we're dialing it up to three.
So please hand us your candy bucket, because we're having a fit of generosity:

🔨 2nd Blacksmith Meltdown
This October we're running two Blacksmith Meltdowns in one month. This is good news already, but the real reason for our Blacksmith's Round 2 lies within our next Treat:

💎 Halloween Gem Sale
We know how much you love these two coinciding, so here we go:
Our annual Halloween Gem Sale this year takes place simultaneously with our 2nd Blacksmith Meltdown Event of the month!
Head right over to our ingame Shop, because you don't wanna miss out on these discounts.
🦇Start: 27th of October // 16:00 UTC 🦇
⚰️ End: 31st of October // 08:00 UTC ⚰️

💀 Brand-new Necromancer Rune
Our most dedicated grave diggers probably found it in the depths of the Demon Prince Dungeon already, but for everybody else we saved the incredible chance to snatch our latest Rune for our big Halloween weekend.
This is what you can expect:New Necromancer Rune: Necronomicon
Necromancer Skeletons are replaced by Boss Skeletons. The amount depends on the Rune Level.
Unique Tier 6 effect: Necromancers collect Dragon Power to summon a Lightning Dragon.
Grab it while it's hot.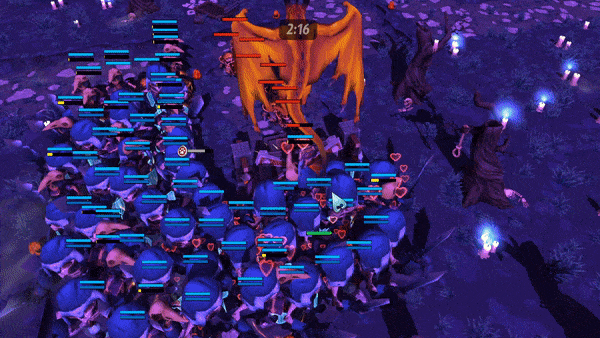 And with these three amazing goodies we would like to thank your for participating in this year's Horror shenanigans and wish you an especially haunting Samhain weekend!
Just remember: It's Halloween. Everyone's entitled to one good scare,

Your Royally Revolting 2 – Team