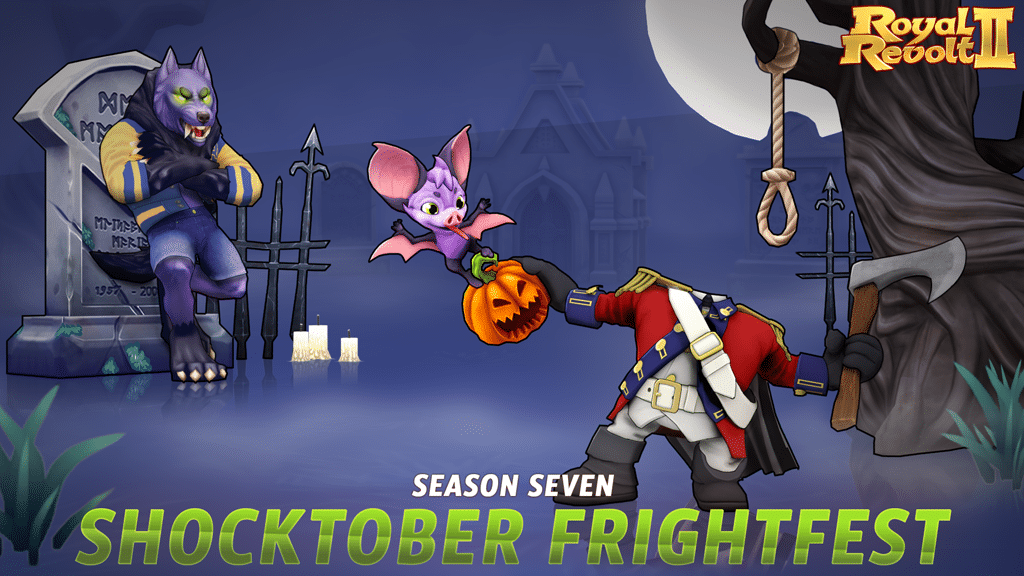 Dear Kings and Queens,
There's something in the fog! Our upcoming Season is chock-full with spooky Rewards. Best enjoyed with some Fava Beans and a nice Chianti.
" Season Seven: Shocktober Frightfest" is starting today at 13.00 UTC, with 40 levels and 10 achievements!

Conditions:
Werewolf: +1 Level
Black Magic Spell: +1 Level
Skull Tower: +2 Level
Jesterbox: +1 Level
Exclusive Skin for the Werewolf & Jesterbox
Halloween environment active for all battles on the default environment
Rewards include:
Yig, Yog & Yug
3x Bela, 3x Phoebe, 3x Ceres, 3x Eris
New Mummy Rune: Nephren-Ka
Runes for Black Magic Spell, Werewolf & Skull Tower
Items: Complete Headless Horseman Item Set (Pro, new), Sack Head (Pro), Rage (Pro, new), Purgatory (Pro), Skulltimate (Pro), Crow Feet (Pro), Reaper's Touch (Pro), Ghastly Lantern (Pro, new), Thirteen (Pro, new), 🍴 (Pro, new), Pro Item Chests (ranging from 1x to 3x items)
Colors & Patterns: Pumpkin pattern (Level 20), Halloween color (Level 20), Bat pattern (Level 150), alternate Halloween Color (Level 200), alternate Fire Orange Color (Level ????)
Get your Season Pass today to snatch all of them!