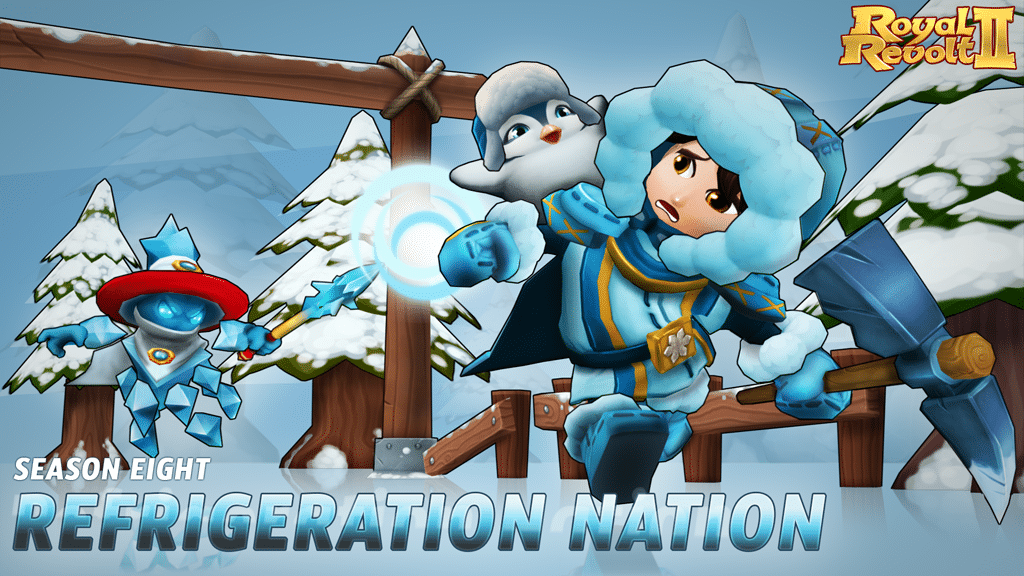 Dear Kings and Queens,
Winter lingers and things are about to get real cold. Our November Season's rewards will freeze you in your tracks, so better bundle up! ❄️❄️❄️
"Season Eight: Refrigeration Nation" is starting today at 13.00 UTC, with 40 levels and 9 achievements!

Conditions:
Froster: +1 Level
Blizzard Spell: +1 Level
Bomb Tower: +2 Level
Frost Tower: +2 Level
Exclusive Skin for the Froster
Northland environment active for all battles on the default environment
Rewards include:
Trusty
3x Janus, 3x Ceres, 3x Eris
New Frost Tower Rune: Yeti Den (see below)
Runes for Bomb Tower, Ice Resistance, Unit HP+Attack Rate & Spell Cooldown
Items: 4 entirely new Uber items with Blunt resistance, complete Inuit Item Set (Pro), Raijin Drums (Uber), Prospector's Treads (Pro, new), Blacksmith Set Belt & Gloves (Pro, new), Blacksmith Set Helmet, Armor, Shoulders & Cape (Pro), Krenko's Revenge (Pro), Zelos Boots (Pro), Chloris Armor (Pro), Pro Item Chests (ranging from 1x to 3x items)
Colors & Patterns: Snowflake pattern (Level 20), Ice Color (Level 20), Star pattern (Level 150), alternate Ice Color (Level 200), alternate medium-grey Color (Level ????)
Get your Season Pass today to snatch all of them!
New Rune: "Frost Tower: Yeti Den"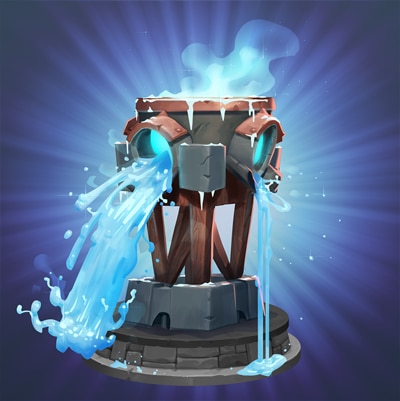 Rune Level 1-6, Yetis:
Applying this Rune enables the Frost Tower to periodically spawn Yetis when enemies approach it.
The Yeti spawn activation distance is based on the Frost Tower's attack range plus 0.5. This way it scales with the Tower level.
Yetis themselves are similar to the ones you are used to from our Winter themed Ninja Events. They will periodically transform into a bigger Yeti for a short time that is invulnerable and also casts a short Battlecry effect.
The level of the Yetis and the spawn interval are dependent on the Rune level:
Frost Tower: "Yeti Den" Level 1: spawns one Level 5 Yeti every 24-26 seconds
Frost Tower: "Yeti Den" Level 2 spawns one Level 7 Yeti every 22-24 seconds
Frost Tower: "Yeti Den" Level 3 spawns one Level 8 Yeti every 20-22 seconds
Frost Tower: "Yeti Den" Level 4 spawns one Level 9 Yeti every 18-20 seconds
Frost Tower: "Yeti Den" Level 5 spawns one Level 10 Yeti every 16-18 seconds
Frost Tower: "Yeti Den" Level 6 spawns one Level 12 Yeti every 14-16 seconds
Rune Level 6 special effect, Snowball:
One of the biggest downsides to the Frost Tower in the late game it's limited range. Adding a single target Snowball attack will change that.
In addition to its regular cold spill attack and added Yeti spawn, the Frost Tower now periodically launches a Snowball every 2-5 seconds.
The range for this Snowball is set to 6.2, which will enable the Frost Tower to throw its Snowball even over pathborders, transforming it into a ranged threat. This attack deals cold damage to a single target while also applying a strong slow effect within a splash radius of 1.