Dear Kings and Queens,
we are nearing the end of our annual Birthday March, and like last time we've saved the best for last:
THE NEW 9.0 VERSION IS COMING OUT NEXT WEEK!
Find a sneak peek of what to expect below:
THE PAL FARM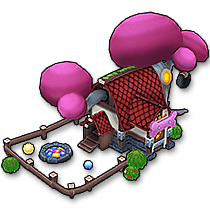 Ever thought that our small, cute Pals need a bit more love? In the new Pal Farm building they will get the much-needed attention they deserve:
This brand new building allows you to upgrade your Pals in more specific ways than ever before!
Awaken your Pals to the fact that they can be much stronger than they think they are. Establish the new Pal Farm building and select Pal-specific traits that can be enhanced further!

These new delicious sweets called "Pal Cookies" will make sure your Pals are highly motivated to train their skills and help you in your battles with renewed zeal!
But don't throw away your old Pal Treats just yet, you still might be able to make good use of them. Keeping multiples of your Pals might prove beneficial as well in the future.
There's more stuff to explore in this version, of course – the full patch notes will be revealed over the course of next week. 
This concludes our Six Stunning Specials for this year's Birthday Month. We hope you will have fun with the new version and your Pals!
🔓 1. Anniversary Gem Sale
🔓 2. Promo Events Extended
🔓 3. Mirror World Bonus Chest
🔓 4. More Pearl Mines and Magic Fonts
🔓 5. The Bangin' Birthday Binge
🔓 6. Version 9.0
See you next week, when 9.0 will drop!
Your Royal Revolt 2 – Team